RONBEI Bedside Basinet Co Sleeper Baby Bed with Music Box
$208.99 USD
Regular price
$218.90

Description
Nine height levels allow you to lower or raise the bassinet as needed.

With music box and detachable toy whcih can add a lof of fun to your little one.

Mesh panels on the sides increased visibility,creates ideal sleep environment for both you and your babies.

Easy to setup and store away,it's a great baby shower gift and provides new parents a safe, separate sleep space for your baby.

Recommended Use: From birth to six months, holds up to 19.8 lbs
Keep your baby nearby in the  Sleeper Bassinet.
Bedside sleeper is a must-have for new parents.
Max height: about 18", Lowest height: about 25.6"
Comes with a waterproof mattress and washable sheets cover. From newborn to 6 months (3 -9kg/ 6-19.8 lb)
Assembled size: about 26" x 32" x 15". Safe and comfortable material
Comes with 1 mattress sheets. Mattress size: about 30.7"x18.5"x0.79"
Features
Bring your newborn home, give their sweet place to rest and provide a safe room-sharing option for your family with RONBEI baby bassinet
The bassinet is extremely cozy day and night for your newborn's first months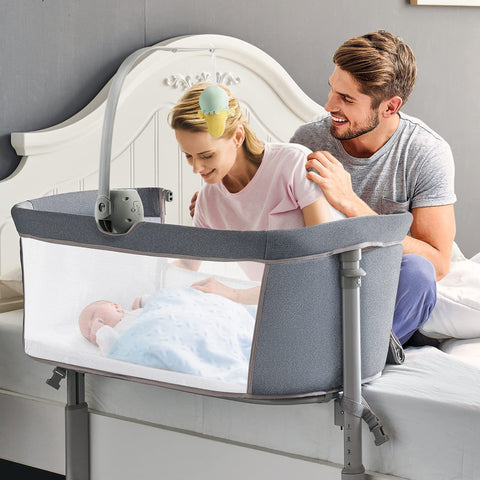 Product information
| | |
| --- | --- |
| Color | Light Grey-with Music Box |
| Model | BC102C |
| Material | Mesh |
| Maximum Weight Recommendation | 19.8 Pounds |
| Form Factor | sleeper |
| Assembly Required | Yes |
| Product Care Instructions | Hand Wash Only |
| Product Dimensions | 36 x 22.8 x 31 inches |
| Item Weight | 25.4 pounds |
Wish I bought earlier!
I wish we bought this earlier!! It was super easy to put together, took me like 5-10 minutes. Easy to adjust height and put down the side wall. I love that I can see baby from the bed and rub his head to comfort him back to sleep. This has made our sleep life so much better!!
Great to get your dog out of the bed!
Here's the review,
decent price (got it on sale), easy to put together, literally came in like 5 pieces that just click in place we didn't even read the directions. It's modern and sleek looking, HOWEVER if I were buying this for an actual baby I feel like maybe a matress should be added? The padding is all of about and inch thick and doesn't seem very comfy! I had to toss a pillow in even for my doggos! So if you're buying this for a human baby maybe keep that in mind…
Now here me out….this is why I purchased it…
Don't get me wrong I love my fur babies but our bed has been taken over by chonk! As much as I love them, we just can't anymore! We've upgraded from a queen to king bed for more room, but now it's about climate! The dogs are like little space heaters laying beside you all night, and they just make it too hot to sleep comfortably! And my little one likes to wake up in the middle of the night, jump on the floor, shake off and come back to bed…why you ask? BC SHES HOT!
I have two bulldogs, one is 55lbs and the other is 35lbs and they BOTH fit in this thing comfortably! They move and spin around as dogs do when they are nesting to sleep and lemme tell you this thing is STURDY! I mean for something intended to hold 30lbs and there's 90lbs in there? Pretty damn good if you ask me! So only downside (so far, it's only been a couple weeks) is the thin padding!
I'm now thinking of buying multiples bc I have 3 baby showers coming up this spring!
I love it.
Amazing baby bassinet, highly recommend.